Acting data-driven has never been easier
Print flyers and mass campaigns are in the past - with warrify, customers are reached where they are and with content that is relevant to them.
​
With the help of warrify, marketing budgets can be used for relevant and personalized offers. Vegetarians, for example, no longer receive offers for meat.
Along the way, we put an end to the paper chaos
We've built world-class technology so that you don't have to. Easily connect with millions of customers through a simple POS integration. warrify enables you to:
Offer suitable products and accessories
Communicate personalized coupons and campaigns
Present relevant services and even warranty extensions
Onboard new customer into existing loyalty program
Collect customer feedback through the receipt
How easy it works for your customers
No app
Your customers don't have to install an app to get their digital receipt. This increases customer acceptance and thus your reach in aftersales.
No registration
Customers do not have to register, they simply scan the QR code and receive their receipt directly in the browser of thir smartphone - 100% anonymous.
No hardware
You don't need new POS software or any additional hardware at the PoS. With warrify, you can build on any existing system and don't need an extra customer facing display.
Do you want to personalize your customer's shopping experience?
Simon Hasenauer | Co-Founder & CSO
The interactive receipt is an ideal medium for us to interact with our customers after they have made a purchase.
Gürkan Ünlü | former CDO & Head of Corporate Development at porta Möbel
Endless possibilities arise from one interface for interactive receipts
Wallets as the new home for digital customer loyalty
Our wallet solution enables customer loyalty without any prior registration or app download.
In addition to the possibility to store receipts, you can send push notifications to your customers' smartphones or use geo-targeting.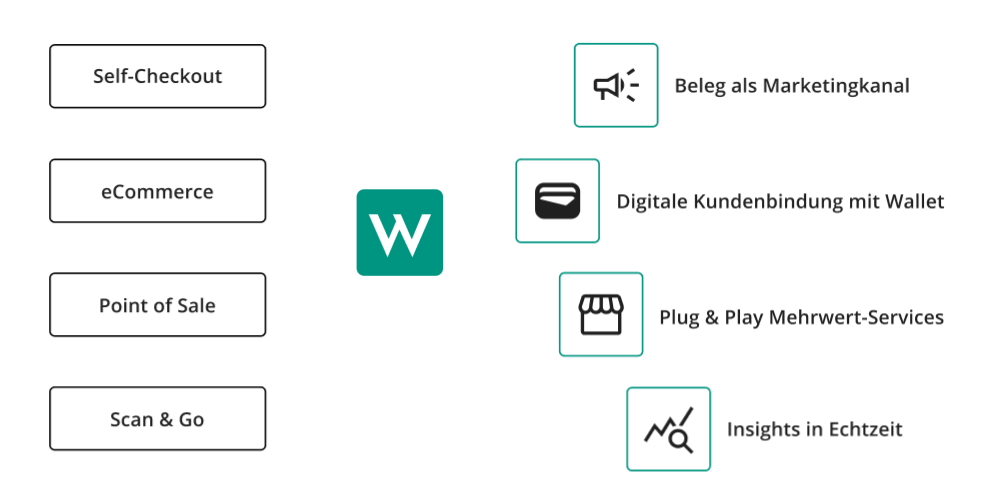 Endless possibilities arise from one interface
As a partner merchant, we provide you with plug & play, e-commerce like tools. Additionally, NO extra integration is needed for these possibilities. So you can get started right away.